Colore Mix Packs, Chrysanthemen für "Urban Gardening"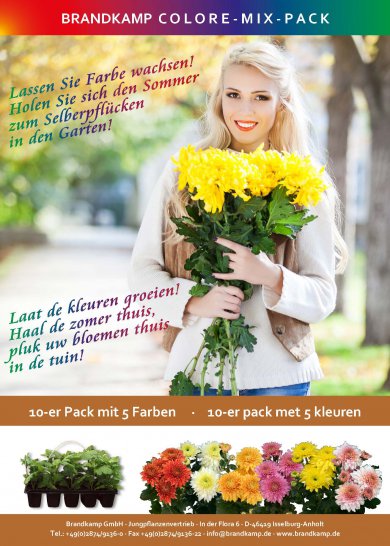 Brandkamp is the German breeder and supplier of Chrysanthemums young plants. Brandkamp offers the perfect product for the consumer who wants to grow plants on their own: The "Colore Mix Packs"
It is very popular to produce your own plants in your own garden, watch the growth and harvest your own produced cut-flowers.
"Colore Mix Packs" are 10 outdoor-cut chrysanthemums in 5 different colors in one pack. The young plants are well rooted and already pinched. They are ready for planting out in the garden. Planted in May the chrysanthemums grow and bloom over the summer till September / October in the garden.
A very big advantage of the well-known Chrysanthemum is the very good durability in the vase. The consumer has continued enjoyment of the blooming flowers from his own garden.
Brandkamp provides the "Colore Mix Packs" in the practical 10-ies with a picture label and handle. Because the plants are sold green Brandkamp has designed a poster that clearly and simply illustrates what "Colore Mix Packs" are. This poster will be supplied with the trays.
"We give a well-known product a boost with new ideas," says Sales Manager Jürgen von den Driesch.
---
Products