Welcome at Brandkamp young plants
We provide you with our 60 years of experience in the young plant production and in breeding the basis for your cultural success.
Our product ranges are checked for you on your suitability and market suitability conscientiously. Innovative ideas in breeding and product concepts round off the perfect selection for you.
---
Solfaro Lisboa at FleuroStar Award
We are proud that our Pelargonium zonale Solfaro Lisboa has been nominated for the FleuroStar 2023.
Lisboa is a beautiful white/pink upright pelargonium that will bring Portuguese flair to your summer with its two-tone effect.
Lasting, rich flowering on a perfect growth are a real eye-catcher.
Start a little journey of discovery to Solfaro Lisboa by clicking on the picture!
---
Beddingplants 2023/24
Chrysanthemum catalog 2023/24
---
Flower Trials 2023
After two years without Flower Trials due to the pandemic and a somewhat restrained restart in 2022, a full house was announced again this year.
Numerous visitors could be welcomed on Breeders Avenue at Takii in the Netherlands, together with 5 other breeders. Above all, the partners, customers and interested parties from Asian countries, especially China and Japan, who had been sorely missed in recent years, were back.
At Brandkamp, the special focus and also the interest of the visitors was in products such as lantanes, fuchsias and chrysanthemums. Here Brandkamp has been playing in the top league of breeding for a long time.
Thanks for your coming!
But there was also a strong increase in interest in our varieties of pelargoniums, dahlias and thunbergias. Some people were pleasantly surprised by what we now have to offer.
Many business connections could be re-established or completely re-established. All in all a round thing.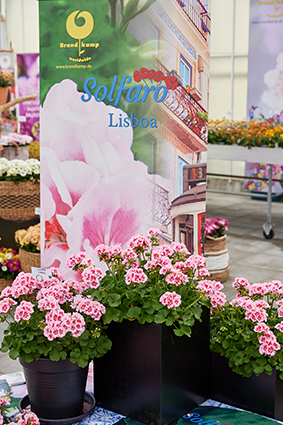 ---
Chrysanthemums 2023
---
Chrysanthemum Trial for 2023
Brandkamp young plants has stood for quality and innovation for over 60 years.
Every year we carefully evaluate our new varieties and revise our program in order to put together the perfect range for you.
In our video we take you to our breeding department. Click the image! and see how colorful it is with us every autumn at the chrysanthemum trial.
---
---
News
---
Products